Your Products Left Me Speechless!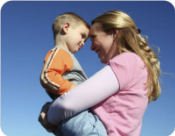 I bought "Yes, You Can!" for my son Walt (age 8) - who is being teased and bullied in school. I played the stories for him and his sister (age 8) right before bedtime, - without telling them what it was about.

I was busy that day and did not have a chance to listen to the stories myself before playing them for my kids. After 20 minutes, I checked in on the kids.

I thought they were asleep, but they both were lying all tucked in with the biggest smile ever on their faces. So I stayed and listened to the end of the story. At this time my son looked at me and said: "Mom, I just feel so good! – I want to hear the stories every day. I really believe they will help me at school. Tomorrow I will ask some of the kids that never play with me if they want to play."
I am really impressed! – And so happy and thankful.
Thank you and much love.
Lea Pazdecki
Kids Ask For Them

My 7 year old son Marcus has matured by at least one year by listening to "Yes, You Can" for a few weeks. Although he generally alright at bed time before, he now really enjoys going to bed and falling asleep listening to the stories. As he says: "Oh, Dad – I really love falling asleep listening to the stories".
Simone age 4 used to have temper tantrums. But now she loves to listen to "You're Great! when she is tired. We have noticed, that after listening to the adventures for some time, she now throws fits a lot less.
Our experiences with both products have been fantastic. And we believe that the stories are most effective when the kids even ask to listen to them.
Thank you for two great products and very positive experiences for our kids.
Carl and Ann
Now Sleeps Calmly

Our kids are quite excitable and perhaps a bit hyper active. They have difficulty calming down when it is time to go to bed. It has also been challenging for them to concentrate because they want to see and hear everything. So when I saw your programs, I bought them at once even though I never had heard about the products before. I felt instinctively that these products were right for our children.
They now hear the stories every evening when it is time to go to bed. They fall asleep quickly and sleep soundly throughout the night. Before they kept getting out of bed running to our bedroom, - but now they sleep soundly and during the day are more calm and relaxed.
As my son said after hearing the stories the first time: "this story is only for kids and the guy is talking just to me". I have no doubt that our children are more confident now than they were before they started listening to the stories. The products have had an extremely positive influence on our children's lives and we are very thankful for them.
S. Ambrosius